<![CDATA[
Oscars 2018: Rachel Shenton won many heart by using sign language in acceptance speech
Hollywood actress
Rachel
Shenton
won her first Oscar Award for The Silent Child featuring a six-year-old deaf British girl and the gorgeous lady used sign language during her acceptance speech. The movie won the Academy Award in the Short Film (Live Action) category. Shenton shared the award with her fiance Chris Overton, who has directed the project.
The Silent Child
, which tells the story of a girl who struggles to communicate, was named best live action short film. It stars Maisie Sly, aged six, from Swindon, and Rachel Shenton, who played Mitzeee Minniver in the Channel 4 soap.
Shenton
also wrote it and used sign language in her acceptance speech. It was directed by Chris Overton – AKA Hollyoaks cage fighter Liam McAllister. Shenton used sign language for the star of her film, youngster Maisie Sly, as she delivered her acceptance speech, reports mirror.co.uk. "I made a promise to our six-year-old lead actress that I'd sign this speech," Shenton, best known for playing Mitzeee Minniver in "Hollyoaks", told the audience.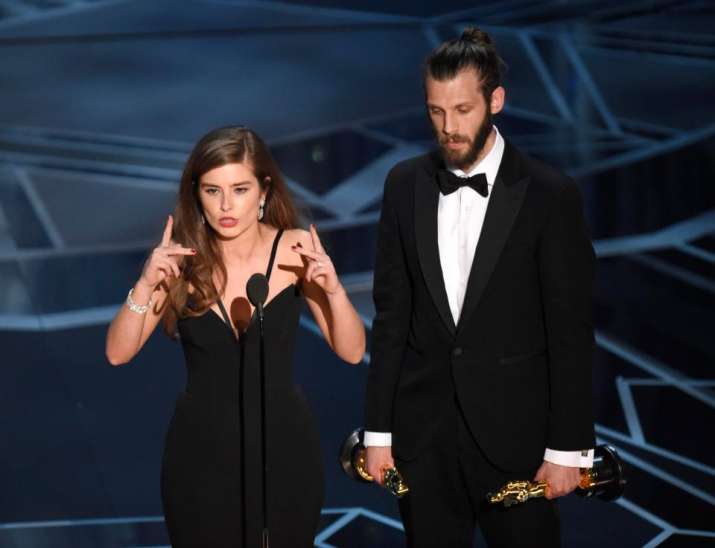 Shenton is not the first actress to use sign language in her Oscar acceptance speech. Jane Fonda signed part of her speech as she accepted the best actress award for "Coming Home" in 1979, as did Louise Fletcher who signed to her deaf parents when she won best actress for "One Flew Over The Cuckoo's Nest" three years earlier. Marlee Matlin, who is deaf, also signed when she won best actress for "Children Of A Lesser God" in 1987. aring social worker teaches her to use sign language to communicate. Of the film, Shenton said: "Our movie is about a deaf child being born into a world of silence. "It's not exaggerated or sensationalised for the movie. This is happening, millions of children all over the world live in silence and face communication barriers and particularly access to education."Shenton, from Stoke-on-Trent, was inspired to write the film by her father, who went deaf after receiving treatment for chemotherapy when she was 12. She became a qualified British Sign Language Interpreter and ambassador for the National Deaf Children's Society. While backstage, she said: "I'm so, so proud of putting this ability that isn't talked about in front of a huge audience – it's a story that isn't told often so I'm really, really proud of that." Overton added: "It's just incredible, especially for this subject it usually gets swept under the carpet, so this is huge for deaf people."
rachel shenton oscar speech video
]]>