<![CDATA[
Australian captain Steve Smith breaks down at presser, says 'I'm sorry and I take full responsibility'
Steve
Smith
could not control his emotions during the press conference in Sydney as he apologised for the ball-tampering scandal that rocked Australia.
The former Australia captain steve smith
broke down on various occasions during the course of the press conference on Thursday. Smith was speaking to the media for the first time after Cricket Australia banned him from cricket for one-year on Tuesday. "To all of my teammates, to fans of cricket all over the world and to all Australians who are disappointed and angry. I'm sorry,"
Steve Smith said on ball tampering incident
. "I take full responsibility … There was a failure of leadership, of my leadership. I'll do everything I can to make up for my mistake and the damage it's caused."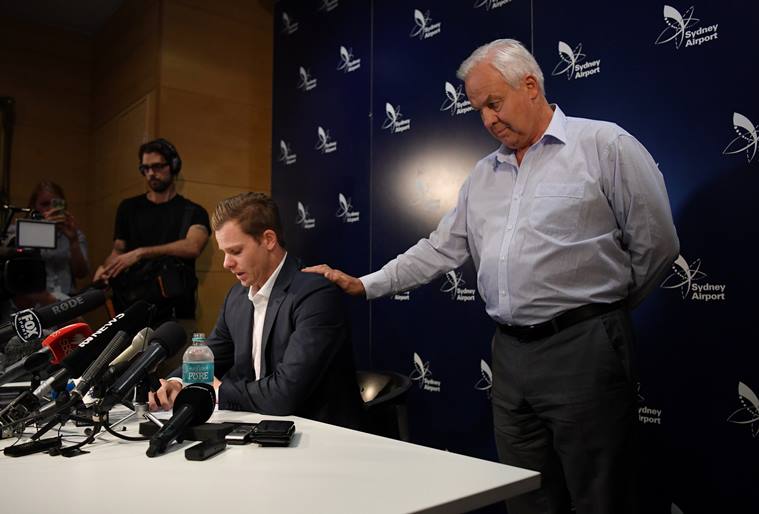 Australia and South Africa were involved in a four-match Test series in South Africa but on the third day of the third Test, visuals of Cameron Bancroft trying to change the condition of the ball and later hiding the "sandpaper" in his trousers caused an uproar. After the day's play, Smith and Bancroft admitted to trying to change the condition of the ball for which the ICC handed Smith a one-match ban and fined him 100 percent of his match fee. Bancroft received four demerit points and was fined 50 percent of the match fee. "If any good can come of this, if there can be a lesson to others then I hope I can be a force for change. I know I'll regret this for the rest of my life. I'm absolutely gutted. I hope in time I can earn back respect and forgiveness," he added. Smith, Bancroft and David Warner were asked to leave South Africa and the three cricketers flew home the next day. Smith had said that only the leadership group of the team knew and denied that coach Darren Lehmann had any role in it. Tim Paine was named the captain of the Australian team for the final Test against South Africa which begins on Friday. I don't blame anyone. I'm the captain of the Australian team. It's on my watch and I take responsibility for what happened last Saturday."Cricket is the greatest sport in the world. It's been my life and I hope it can be again. I'm sorry and I'm absolutely devastated," he said.
Heartbreaking. Steve Smith has broken down delivering a message to young Aussie cricket fans. pic.twitter.com/l14AsvAhXz

— cricket.com.au (@CricketAus) 29 March 2018
Steve Smith's father Peter
was also present by his side and consoled his son as he was unable to control his tears during the presser. Smith ended the presser saying that he was deeply sorry for the pain he has brought to Australia fans and public and he loves the game of cricket.
Cricket Australia
handed one-year bans to Smith and vice-captain David Warner while opening batsman Cameron Bancroft was banned for nine months. Warner had earlier apologised via social media while Bancroft faced the media and said that he panicked and he is sorry for whatever he has done."It hurts … I'm deeply sorry. I love the game of cricket. I love entertaining young kids … I just want to say sorry for the pain I've brought to Australia, to the fans and the public," he said.]]>