For almost half of the world, social media is just a source of entertainment. Most people think of it as nothing more than a platform of amusement, distraction, and delight.
But this is not the case with everyone. Some wise businessmen look at social media from a completely different perspective. For them, it is the biggest source to make their business bloom.
Today, social media has become the biggest marketing and advertising platform. In fact, it has become the most integral part of both e-commerce and brick and mortar businesses.
Social platforms like Facebook and Instagram are some salient components when it comes to expanding and spreading businesses. Want proof?  Then you must read Guide to expand business with Instagram.
I know, as a new entrepreneur, there will be lots of questions arising in your mind like how is that so and if this really is the case, then in which terms it will benefit our business.
Well, that's why we are here for. In this article, we're gonna reveal some of the major benefits that social media has for your business, so read till the very last line.
More Website Traffic
Social media can really increase the traffic on your website, and I mean it. Just by sharing quality content in your post, an attractive add, or a remarkable value for your product or website will be enough to attract thousands of readers at the exact time you have shared it.
You can also bring hundreds of visitors to your site by participating in social chat platforms like Twitter. Trust me, it's really gonna give a great boost to your organic traffic.
Improved Customer satisfaction
With the help of social media, you can show people how sincere you are with your customers and the dedication you are offering in your customer support.
When customers approach your business's customer support, all they get are the automated messages and chatbots which are not enough to satisfy them.
But when you reply and respond to their posts and comments on your official websites, it does give them a sense of satisfaction and they get more connected with your company.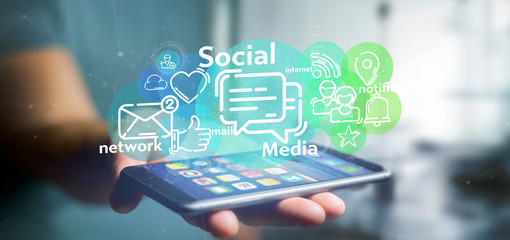 Extremely Cost-Effective
Social Media can prove to be an extremely cost-efficient advertising solution for your business as you won't be needing to pay those heavy bills of flex printing for your brand's marketing, you won't be paying thousands of dollars for PPC's and there would be absolutely no need for you to hire those expensive marketing managers.
All you have to do is to make a small but attractive post and voila! you'll attract 10 times more buyer's from around the world from this post than you would from any other source.
Increases Brand Awareness
As you won't be launching your product only in a small group of people but among a broad range of audiences, therefore your brand will gain more recognition around the world. Your company's and Brand's name will not be restricted just to a city or a country but it will spread worldwide at the international level, after all, one must never underestimate the power of the internet.
Take Away
These were just a small part of the benefits that social media offersfor your business, there is still a lot more for you to discover. However, I hope that by reviewing this article you will now agree that social media can, without any doubt add great flavor to your business.