Cars are one of the most important and lovable resources in everyone's life on which they spend their money and time. So, choosing the genuine and right auto workshop for service is a serious decision. Because the quality of the repair services is directly linked with your road safety, when it comes to your safety, it is not simple to trust anyone with your vehicle. You might need a garage that would repair your vehicle reliably and wouldn't overcharge the service fee.
 Most of us want our cars to be in the best possible conditions all the time. For this, it is essential to get your car serviced, send it to an authentic workshop even for minor damage. Here are the top five best brand car repair companies in UAE. They assured positive experience for all kinds for repairs and services when your car needs through the quality of their work.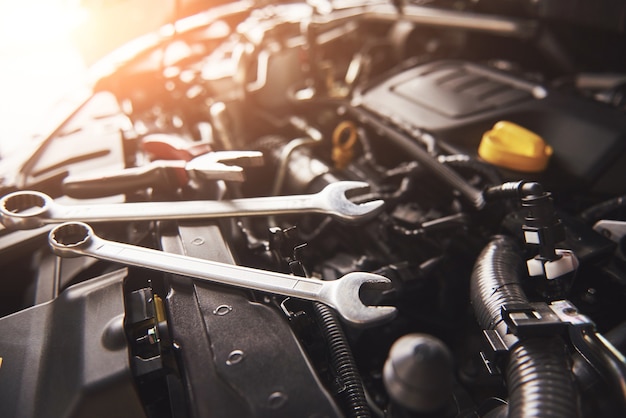 Are you looking for the best auto repair company in UAE, Dubai? PitStopArabia is one of the leading automotive service providers in UAE, established in 2015. They offer exceptional brand car repair and maintenance services in Dubai, Abu Dhabi, Ajman, Sharjah, and many other locations. 
The company strongly believes in satisfying and fulfilling customer requirements by providing quality auto repair services. PSA certified technicians are familiar with using the latest technologies to find a better solution for the problem and to fix it professionally. Their main goal is to offer customers the convenience that they couldn't get any other way.
Services: Car repairing and Services, AC repair, Car insurance, Car battery, Car Wash, Car detailing, paint protection, brake repairs, etc.
Location: Building 4, Ground Floor, Dubai Outsource Zone, Dubai, United Arab Emirates
In this digital era, nobody wants to waste their time on a car repair shop. Carcility is here to provide safe and cost-effective auto repair services that help to save your time and energy. You can give your vehicle the care that it deserves at the comfort of your own home and office at affordable rates. 
Facility is not only here to deliver a convenient service for you but to make your drive hassle-free. Experience all your car service and repair needs with them on the one-stop destination in Dubai, Abu Dhabi, and Sharjah. Their worker's main aim is to bring the best service possible when it comes to auto repair and maintenance.
Services: AC repair, car servicing, and repairs, Interior and Exterior wash, Engine fixes, Tyre services, car detailing, paint treatment, etc. 
Location: Technohub 1,2 Dubai Silicon Oasis PO Box 342175 Dubai, UAE
Premier car care is the leading auto service center in UAE, Dubai. It aims to provide the best top-notch brand car repair and maintenance services to customers. As one of the best British and German vehicle service workshops, they have been enhancing the driving experience and enriching car ownership for years. The company takes pride in the expertise and certified experienced team of mechanics that can service all makes and models of cars with outstanding results.
Whether the customer wants to improve the performance of the car or its interior and exterior design, they can always get service from Premier. Your comfort, safety, and convenience are the workshop's top priority.
Services: Auto repair and maintenance, Spare parts and accessories, detailing, car body painting, A/C repairing, Window tinting, etc.
Location: Al Quoz 1, Near ETA, Behind Home Center Warehouse, Dubai, UAE.
Zdegree is an automotive maintenance workshop that delivers high-standard services to customers. They service all types of SUVs, light vehicles, passenger cars, and trucks. It is known to be the most trusted brand car service center in Dubai.
The team of certified technicians has a decade of experience in all makes and models of cars. Whether your car needs major repair service or has minor damage, the auto center mechanics do their best to keep your car running. All the repair service centers of Zdegree are fitted with the latest state-of-the-art tools and equipment where the workers are always ready for the next challenge.
Services: Brake Services, Mechanical services, A/C repair services, Brake services, Battery, Electrical Services, Car Detailing, Car wash, Oil services, etc
Location: 4th Street Al Quoz Al Quoz Industrial Area 4 – Dubai, United Arab Emirates.
Max garage is a brand service automotive solutions company established in 1980. Over the years, they have earned trust and respect by providing reliable solutions to all their customers for their various auto repairs and service needs. They are known to be one of the best, reliable, and affordable car garages in Dubai.
By being an independent vehicle workshop, they have the ability to service all repair all the makes and models of cars with what it really needs. Above all of it, they make sure that your car runs as per manufacturer standards.
Services: Automotive services, Car repair services, Vehicle detailing, electrical and mechanical repair, body and paint repair, Online Tyres, Batteries, etc.
Location: Max Garage, 29th St – Al Quoz Industrial 4, Dubai – United Arab Emirates
M Junaid Lead Writer, Content Marketer at PitstopArabia | UAE Best Online Tyres Brand, A writer by Day and reader by night