Waiting to be tied up in a perfect Lehenga Choli? Vasansi Jaipur is an answer to all your traditional and ethnic wear needs. The Collection at Vasansi Jaipur is incredible from Crop Top Lehenga, lehenga Saree, Black lehengas, Silk Lehenga Choli, Velvet Lehenga.  At Vasansi Jaipur, you easily find trending lehenga choli from Zardosi, Silk, to gotta Patti, or stone embellishments.
Vasansi Jaipur- Best Trending Lehenga Choli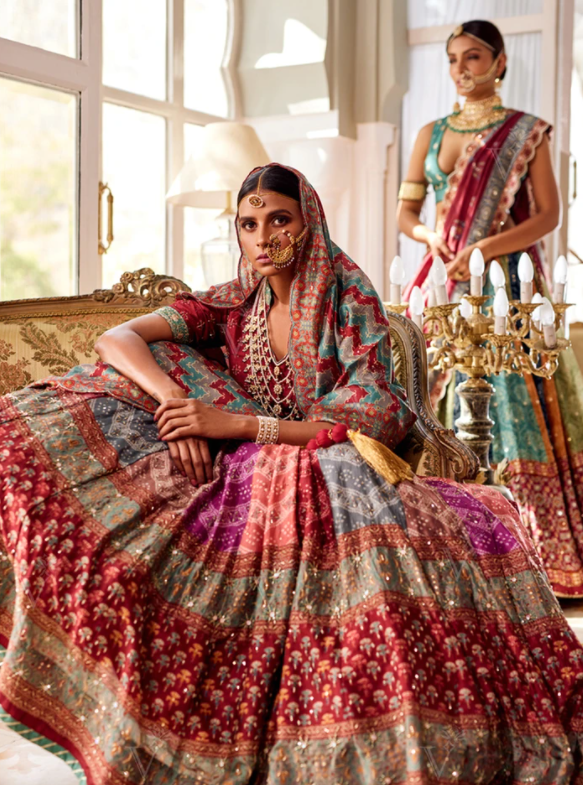 Trending is a slang most used nowadays in anything from a startup to a YouTube video. Although, trending fashion is something which is being wore by celeberties and recently got a lot of appreciation. We very often design our lehenga Choli's keeping in mind the celebrity's outfit. Hence, here we have a list of some most trending lehengas of Vasansi Jaipur for you all over the internet.
Vasansi Jaipur is a legacy's old brand and is true to its artistic values. Vasansi Jaipur is pink city's most loved ethnic and traditional wear brand. Even the people from other cities as well come all the way to Jaipur to shop from Vasansi Store. Understanding their customers' needs, vasansi now has an online store where all its trending designer lehengas are listed. It keeps a whole team in customer support so that your festivities go without hassle. Vasansi Jaipur provides speedy delivery to save our "last-minute customers". Vasansi Jaipur is one of the few brands which provide cash on delivery on expensive attires as well. Below are some of the top trending Lehenga Cholis At Vasansi Jaipur.
Top trending Lehengas at Vasansi Jaipur
Cobalt Blue printed Lehenga Set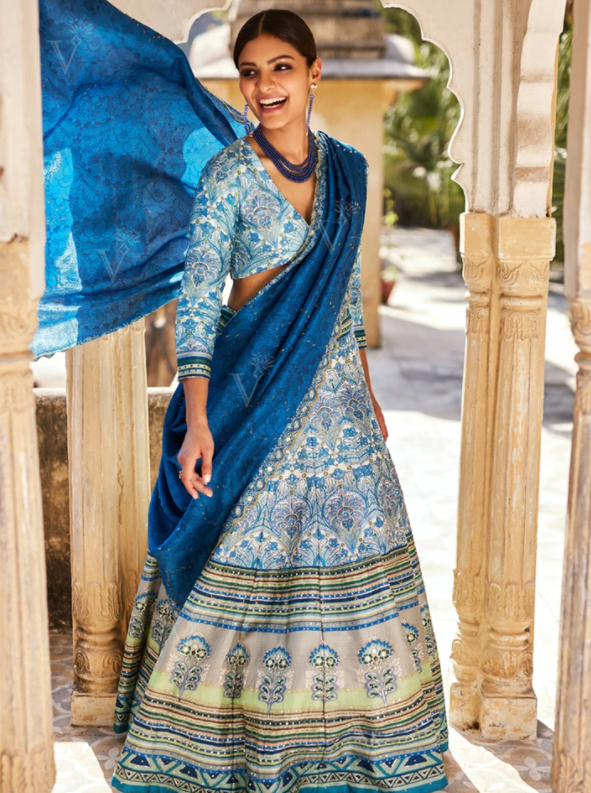 Vasansi's Cobalt Blue printed Lehenga Set is one of the most trending piece in this Silk lehenga collection. It is perfect for any last minute festivities or early ceremonies of the wedding. The Color is unique and will not be able to find anywhere easily. Silk Lehenga is growing its popularity with the sequence highlights. The fabric used in Lehenga is printed vasansi Silk. It does not have any additional embellishments making it subtle and prefect for new age women. The jewellery can vary from a gold set to just some long earrings.
Pink Aari Gota Lehenga with floral dupatta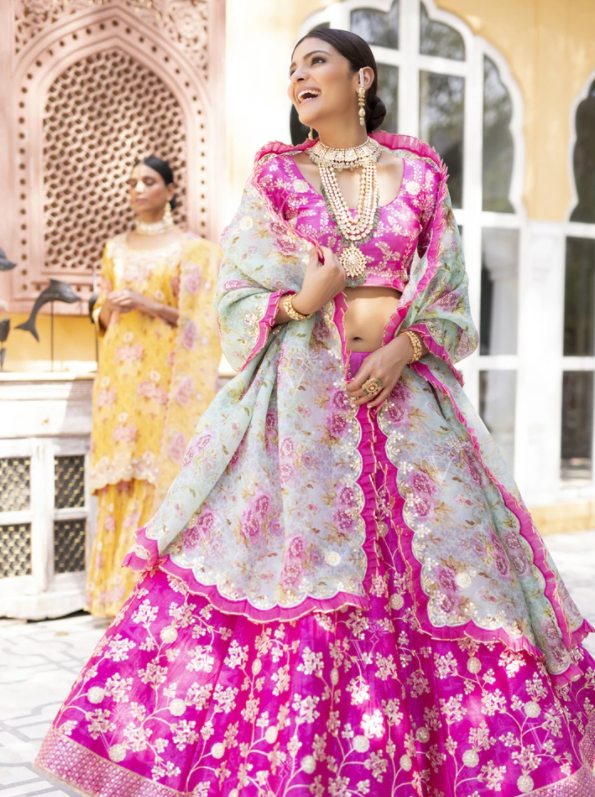 Pink Aari Gota Lehenga with floral dupatta is a choice of a lot of girls due to its modernized gotta Patti work and exuberant color. It is especially high in demand due to the handwork of Gota Patti which is quite famous in the northern part of India. The fabric used in the bridal lehenga and choli is Vasansi silk while the dupatta is floral Organza. The highlight of the lehenga is the aari gota work all over it. The dupatta as well as Choli is also embellished with the Gota Patti work. Dupatta is in contrast bringing a different vibe altogether. It is a 2.5 mts long luxe floral organza dupatta.
Off- White and Indigo block print lehenga for bride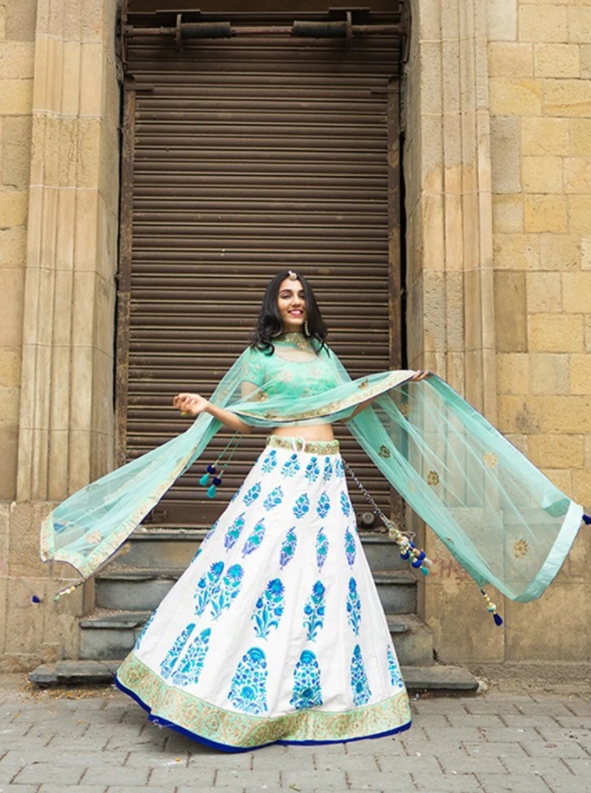 Off- White and Indigo block print lehenga will satisfy your trending and unique lehenga look, which you dreaming about in years. This Vasansi Jaipur lehenga is unique with no unnecessary chaos around it. If you are someone who believes in simplest outfit, this one's for you. It is floral raw silk lehenga highlighted with pittan work. This lehenga is accentuated with tassel details at the waist belt. It has contrast piping enhancing the lehenga further more. It can be teamed up with net dupatta with contrast Gota Patti work.
Baby Pink Vasansi signature Leheriya Printed Lehenga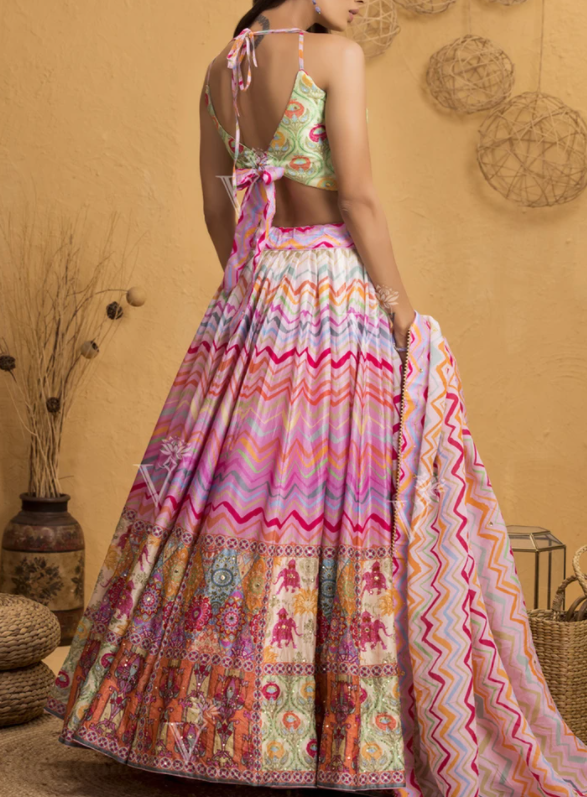 Baby Pink Vasansi signature Leheriya Printed Lehenga is just the right choice for you. By Choli we mean short blouse which is either backless or deep neck and this backless choli is perfect and at the same time untimely. The knot at choli is a statement style mastered by very few designers only. This lehenga Choli set is a go-to-ensemble for any bridesmaid. The fabric of Lehenga is vasansi Silk making it unique. The inspiration of this lehenga Choli' s handwork is directly from the rich culture and heritage of Rajasthan. Leheriya is a popular print in Rajasthan but is now taking its place around the world. Colors in this lehenga would do magic on every skin tone and is a perfect attire irrespective if the function is in day or night.
These are some of the most trending Lehenga Cholis which are available in free shipping directly from the Vasansi Online store. They provide Cash on delivery as well as a free shipping policy. You can also customize your outfit at Vasansi Jaipur and make it worth the wait.
Wedding lehenga Choli in India
In India, the lehenga Choli is one of the most iconic bridal outfits. It is a traditional practice to wear Lehenga Choli on special occasions like wedding ceremonies as well as festivals. It is a flared long skirt having multiple layers, which can team up with different kinds of cholis. The Choli significantly is a short blouse that might have a deep neck or strings attached, making it different from the regular blouse.
Lehenga Choli is not just regular outfit, it is graceful, exuberant and can change the way you present yourself. There are many young girls who wait to wear a perfectly splendid Lehenga Choli in the wedding of near ones. As soon as the celebration is announced quest to find the perfect Indian trending Lehenga starts. But the modern girl that you are, we don't expect you to visit every showroom on foot trying hundreds of Lehengas until you find the best. Rather, we can bring the Lehengas right at your doorstep.
Come On Girls, it's time to bring your long dream of wearing a perfect bridal Lehanga Choli alive. So Shop now and show yourself wrapped in the most exuberant lehengas.
Conclusion
Lehengas which were earlier used to wear only in Northern India, are now getting popularity around the country. With increase in popularity the collection should also be vast and latest to choose form. Vasansi Jaipur provides the vast and most dynamic as well as a unique collection of lehengas. It has everything from gota patti to sequence and embellishments. You can shop trending Lehenga Choli from Vasansi Jaipur.